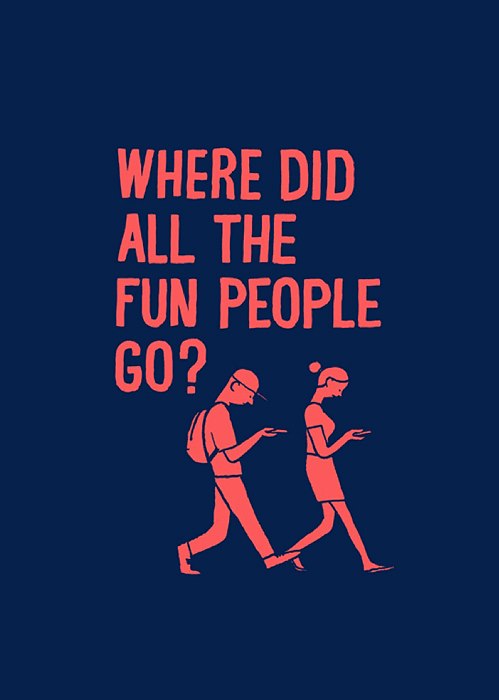 My HTC "took a dump" about a week and a half ago, and while it's now sitting with the service provider for repair, I stuck its SIM card into one of my older, less "smart" phones, with a smaller screen, way fewer gadgets, gizmos and widgets. It works great for phoning, texting, and some reasonable photographic possibilities. That's pretty much it.
I can't begin to tell you how pleasurable it is to be free of the distractions of the most up-to-date technologies! I'm not incessantly checking my email accounts, reading abbreviated news, referencing maps (I do know where I'm going, after all), and btw – I don't do social media (including FB, Twitter, G+ et al) from my phone anyway.- I mean – why should I allow these apps to migrate ALL my info into their databases. If you read the small print before you allow these apps in your smartphone, you'll discover that you are giving them permission to take ALL the contents of your phone book, your GPS coordinates, and much more.
I've since been enjoying reading real books whilst travelling – from Charles Shaar Murray's "Crosstown Traffic", (http://www.charlesshaarmurray.com) to Grant D. McLeman's "Street Magic" (http://www.verbal-art-wordlab.blogspot.com), and "Manuscript Found In Accra" by Paulo Coelho. Then there's enjoying actually "being there".Pleasurable indeed!
How fondly I remember the days before mobile phones hit the market, when you could ride the subway and enjoy the sounds and rhythms of trains wheels – and I could take those rhythms, and compose cool music around what I was hearing. Then there's the joy of people-watching, a pastime that's been with us since time immemorial. Seemingly gone.
Now everyone forms a "personal bubble" around themselves, out of touch with their surroundings, in their own little private worlds. Is that really a healthy way to go about living a rewarding life?
I suppose I saw the future many years ago (relatively), when I went to dinner with friends, and glanced at a table opposite us, seeing a rather large family with a number of young children who were textng each other – within just a few feet of each other, Like…they couldn't just talk to each other in that close proximity? And this was before the advent of "smart" phones. WTF!?!
NB Please understand that I am not advocating that folks ditch their technologically-advanced tools – but rather to consider the word "appropriateness" – a word I find myself constantly using in my music lectures.
Thanks for letting me share this with you
—
August 5, 2013