If you're looking for adventure – I suggest giving some of these beauties a try. I have been loving my time spent with them.
(Analog. This year's "picks" are all analog! I hadn't planned it that way, but I smiled when I realized…)
From Fret-King:

Earlier this year, I was invited to try out some of Trev Wilkinson's new guitar designs. From the moment I pulled the "Elise" out of its case, I had the feeling that this was a special instrument. It is. I like it so much, I am now endorsing it.
Here is the blurb from their website: Carved from a solid mahogany blank, the Elise body has acoustically tuned chambers, a full length centre block, and double carved solid maple cap to create a vibrant semi acoustic body.
The slick mahogany neck, with deluxe rosewood fingerboard, employs the Fret-King long-tenon neck joint, which mates precisely to the body underneath the neck pickup, forming a rigid fixed bond between neck and body, maximising the retention and transmission of the Elise's fundamental acoustic properties.
Fret-King WVC humbuckers give the Elise a voice with unassailable authenticity, definition and the power required for everything from mellow jazz to full bore blues. Fitted with the Fret-King Vari-coil, the WVCs can be progressively wound back to emulate a P90, or produce sparkling traditional single coil tone. The Elise sounds just like it looks, and then produces voicings never associated with this style of guitar, but which would be at home on Ocean Boulevard or a Nashville `Honky Tonk'. Listen.
---
Would you like some overdrive / distortion with that?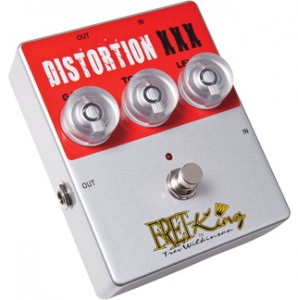 The Fret-King Distortion XXX is  Trev's gift to the world of gain. Ideal for players who like a dirty sound, and perfect for everything from blues and indie to rock, punk and all-out metal, the Distortion XXX is incredibly versatile. Set the level, then use the gain knob to dial in anything from smokey jazz chords to howling solos, and the tone control can configure amounts of bass and treble – whatever you need, it's here in spades.
This box is rugged, with a durable die-cast aluminium casing, true bypass technology, classy design, and dual paired inputs. I'm very excited to be using this "so many personalities in one" device.
---
Another Pedal? Sure…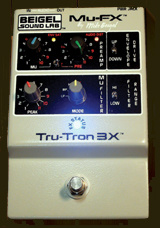 Mike Beigel is an inventor / designer with whom I've been friends since the early 1970s. Among many great designs, his MuTron III is one everybody will surely remember. (Like that great electric clavinet sound on Stevie Wonder's "Very Superstitious" for starters!) Mike has bettered the design – this  latest is called "Tru-Tron 3X". You really ought to give this one a try, if envelope followers are your thing…
[NB in the EU the product is marketed as Mu-Tron 3X]
---
Shall we mic these up?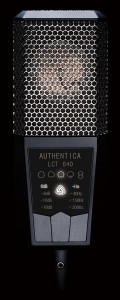 Another most interesting discovery this year has been Lewitt Audio. Of their large selection of mics, I did extensive road-testing of a model called the LCT 640.
This Austrian-designed and engineered large-diaphragm condenser microphone delivers a smooth, beautifully rich and exceptionally nuanced sound. The LCT 640 excels in a variety of demanding studio applications including miking lead and background vocals, drums, percussion instruments, grand pianos, brass and woodwinds, classical music ensembles. And did I mention guitars?
In addition to the standard omni-directional, cardioid and figure-8 polar patterns, the LCT 640 offers a wide-cardioid and super-cardioid characteristic. It offers a dynamic range of 135 dB and stands out for its extremely low self-noise of 10 dB. In combination with a 4-level high-pass filter and 4-level switchable pre-attenuation, the LCT 640 provides maximum versatility in all recording situations. Automatic attenuation, key-lock, clipping history, push buttons and a light-up user interface round off the features of this outstanding microphone.
---
And finally…
I've been using two from Black Cat Pedals that I am head-over-heels about. Here they are:
The Black Cat Mini Trem is a dual function tremolo/clean boost in one pedal. Part of the legacy of the original Black Cat line, the new Mini Trem sports some additional features and a spiffy new look. At the heart of this pedal is a classic, sixties-style tremolo with Speed and Depth controls. The circuit also incorporates a clean FET boost with controls for Boost and Tone. Finally, we've added a second stomp switch that allows for half-speed/double-speed switching, and an LED that flashes in time with the rate of the tremolo.
The tremolo and clean boost effects can function independently of one another, but the Mini Trem really shines by using the combination of all four controls, which yields the widest variety of tones and timbres available in any stompbox tremolo. The Black Cat Mini Trem lets you "voice" the sound of your tremolo, from a deep and swampy throb to a sharp staccato stutter.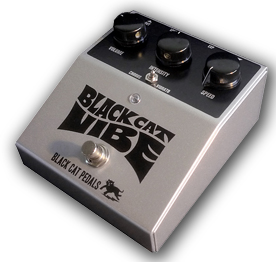 Last but certainly not least – a vintage effect from our late '60s heritage days.
The Black Cat Vibe was the flagship of the original Black Cat product line. It garnered a reputation among many as the best Univibe recreation ever made, and can still be found in the rigs of many well-known players. The new Black Cat Vibe will sound identical to its legendary predecessor, with one exception – the original was noisy as all get-out. This one is absolutely silent. In addition, these  units are more durable, reliable and consistently produced than the originals.
---
Please note that with the exception of some of my introductory and conclusory sentences, I've copied selected parts of the manufacturers' words. I'm sure you'll forgive me – time is tight, and if I didn't agree wholeheartedly with what's on this page, it wouldn't be here. This is some really classy gear, and I fully endorse these products. I can only associate my name and "stamp of approval" with a level of quality that I believe won't let you the reader down!
ER