NAMM – one of my favorite music events. It had been quite a while since I made that trip, and was eager to see many old friends and colleagues. The experience was delightful – professionally, interpersonally, and of course it's always great fun to be at what is arguably the world's #1 musical "Toys ARE Us" event. Virtually every manufacturer of musical instruments, amplifiers, electronics and accessories under one roof for four days.
The main purpose of my attending NAMM this year was as a member of the HIWATT delegation. I've been most impressed and inspired by their product line (and rock history/lineage), and their "proudly all-British-built" ethos is so sonically pleasurable and unique. Even as I type this, I'm working with their design team to build a unique 'personalised' model. Good fun, what?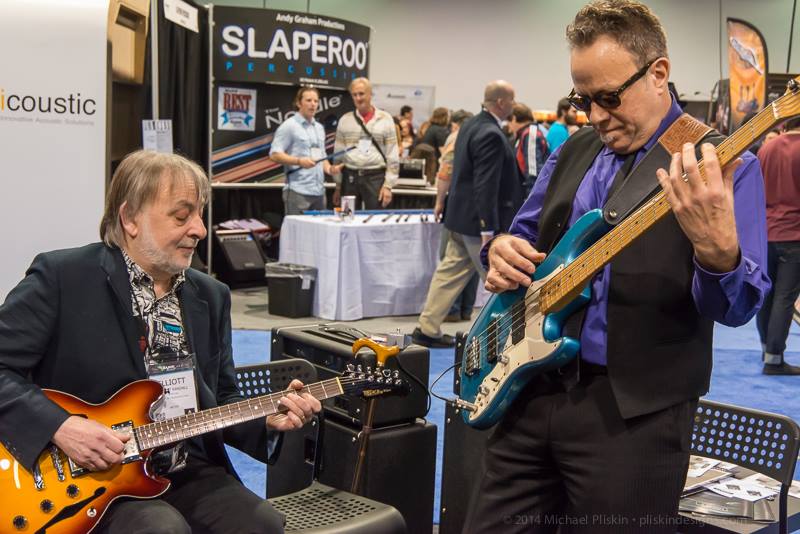 ER and Roscoe Beck playin' funky stuff
---
OK, so now you have the background to my trip. But I made use of every minute of those 4 days. When not present at the Hiwatt booth, I "walked the floor" – as much as was humanly possible, in search of the new and exciting,  bringing us to the point of this article. Over the years, I've taken great pleasure in seeking out exemplary products, stuff that can can be helpful and creativity-enhancing for my fellow musicians. In that regard, I would say that this NAMM trip paid some handsome aural and educational dividends. Let me share some of the real "stand-outs" with you.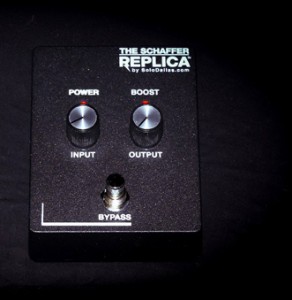 TSR – The Schaffer Replica®       I've known electronic designer Ken Schaffer for many years, always had the utmost respect for his "mad scientist" side. Now, with Schaffer's blessing,  a team of engineers led by guitar sound maven Fil (aka SoloDallas) has put together what I consider an astounding piece of gear.
I guess you could call this the magical mystery what the heck is it pedal that elicits a big smile on my face when I bring it into the circuit (first device after the guitar). Originally designed as part of a wireless system, invented by Ken Schaffer and first used by Angus Young, this wireless did something other than just make the cable disappear. Its onboard compander (compressor / expander) added another set of frequencies to the original signal — and while I can't quite describe the effect as I'd like to, what I can tell you is that what it adds is wonderful. It's richer, fuller, and gives the player the feeling that the instrument is actually breathing. I strongly suggest checking this out.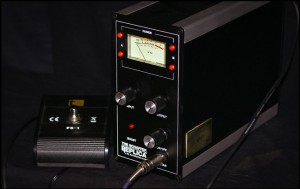 The whole story: http://www.solodallas.com/the-schaffer-replica/
---
EARTHQUAKER DEVICES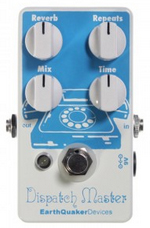 DISPATCH MASTER
Beyond the shadow of a doubt, this is the most beautiful sounding reverb in a pedal I've heard to date. If I had to name a big-time studio competitor's sound quality, I'd have to say Lexicon. (Obviously, in a pedal that offers both 'verb and delay, it won't have the same degree of control as an LX480, but I'm talking flavour.) The delay section is equally as delicious. A very generous amount of delay time, and the quality of the repeats is very natural, in terms of frequency fall-off – almost analog. It's one of those pedals that once you start playing, you might have a hard time stopping. Inspirational echo, verb, dimension.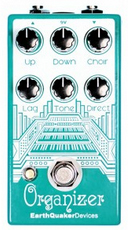 ORGANIZER      
This one is not for the faint of heart. It's got octaves up, octaves down, and a leslie-like chorus effect that you can dial in. Sans the "chorus", one might be inclined to think that this might be akin to EHX's POG – but it's not. A completely different set of tone generators give it its very unique sound. Now here's where it gets interesting. Depending on your settings, the "attack time" will differ (much the same as with church organs). I've also discovered that the dynamics with which you pick will also have an affect on time delay/lag. All in all, it's a lot of fun to be creative with. If you're into that experimental head like I am, you just might consider giving this one a try.
http://earthquakerdevices.com/
---
AUTHOR LOREN WEISMAN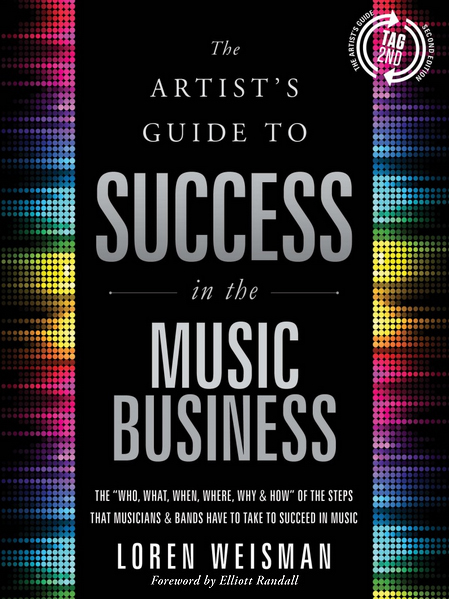 "The Artist's Guide to Success in the Music Business,
2nd Edition"
Loren Weisman and I have been "pen-pals" over the past few years. We've been comparing notes, ideas and experiences, discussing our ever-changing industry. I found the 1st edition a compelling read;  his views on the abilities of musicians to successfully navigate and thrive in this whacky climate are creative and valid. Loren asked me to write the foreword to his 2nd edition and I gladly accepted. The book covers a lot of ground, and it's one of those "open it at any page" books too. I know, it's somewhat curious for me to be including a book in this review, but you know, one needs all the tools at their disposal. Moving on, our first face-to-face meetings – we got to spend some good quiet time (away from the maddening NAMM crowd) and discussed all things musical, web and social-networking. I was most impressed with Loren's acumen, candidness, honesty, and the 2nd edition of the book, which I've just re-read.
---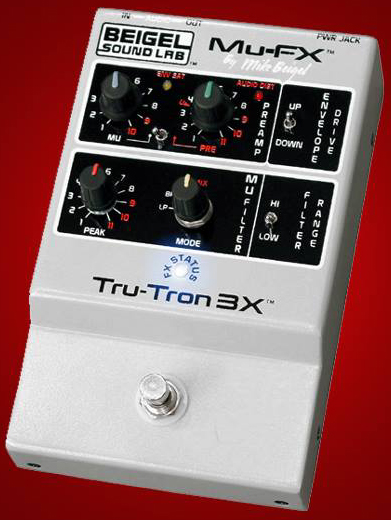 MU-FX TRU-TRON 3X
I've been following the progress of this product for quite a while now. The inventor, Mike Beigel is a personal friend; we go back to the original MuTron days of the early '70s. I was a big fan of their products, and used them successfully (and often gleefully) on many a fine recording. There's been a bit of …shall we say "confusion" over the name MuTron in the past, with patent/trademark rights "moving" from one party to another; not infrequent BS in the land of I.P. Stuff happens. Well, originator Mike is back at it, with a better-than-ever envelope follower and I gotta tell you, I'm really impressed. Traditionally, Mr. Beigel's products have offered not only great innovative sound, but quality components and construction, and I'm happy to say that this practice continues. Among other new sonic treats, you can now overdrive the signal to the filter, creative some pretty wild "sound signatures". If you are a MuTron III fan, then this box is for you. It's truly the next generation.
---
Finally, on the "warm interpersonal side", it was great to spend a little time with dear friends Seymour Duncan, Mike Matthews, Paul Reed Smith, Roger Sadowsky and a few more – reserved for Part 2. Good times.
And anecdotally, I have never ever ever in my life met so many "Facebook Friends" in one place and at one time. I mean, sure, one bumps into maybe a dozen or two at a concert, but this was like… hundreds – many hundreds! OMG-WoW.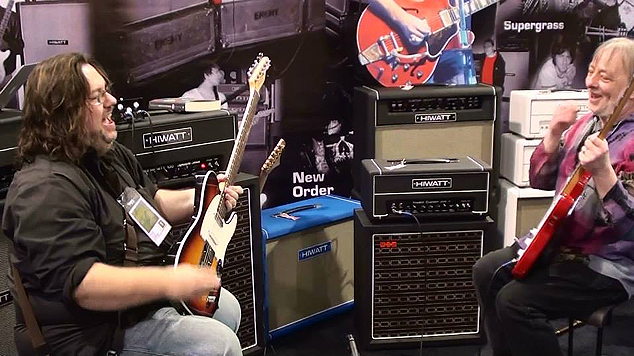 Tommy Denander and ER pickin and…
---
*** PART TWO is now live. Click here to read. ***