At last, "the house is in order", and I'm free to do a bit of writing again. I promised a "Part Two" of the coolest gear I found at NAMM, and now, after some very rigorous test drives, I'll share my experiences with you.
But first a quick observation of the show itself. Has it ever grown! It took up five full convention halls. You'd look down one aisle and see hundreds upon hundreds of guitar necks standing to attention. A look to the right …then the left – more of the same. Like being in the middle of a (very large) army of guitars. And FX pedals? After seeing first couple of thousand, you walk into the next hall to see another couple of thousand. Row upon row. Of course, every instrument family from accordions to zithers was well represented, not to mention electronics, amps, accessories, merch manufacturers…  On and on. Marvellous madness.
Each of my "discoveries" began with a human interaction, and so the personal side set the tone for the decision to audition. What was that great telephone ad strap-line? On yeah – "It's good to talk". It really is.
So after this read, if any of these products interest you, I encourage clicking on their respective links and learning more about them.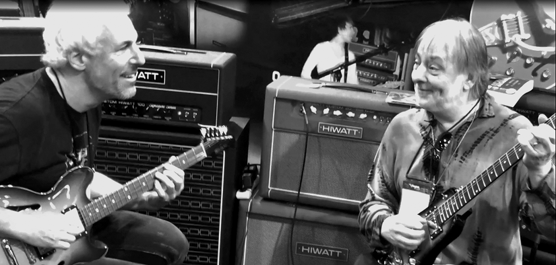 With my longtime pickin' buddy The Peev. It's always inventive; always "in search of…"
And now, as they say, on with the show…
---
ZEXCOIL PICKUPS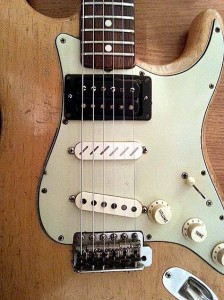 From my first conversations with inventor Scott Lawing, I knew that he was on to something special. An MIT graduate, his fascination with physics and electric guitars proves just the right combination – extreme talent and thinking "outside the box". Scott's methodology for design of noiseless pickups, which are filled with sparkling tonal personality is really special, and I dare say "unique".
Having had Nigel Stockbridge  install the SV50 model into my middle position (note slanted magnets) I'm finding that it delivers a sound quality that's warm and crisp and inviting, all at the same time. It's like …"high fidelity"! Now I must find another instrument to install a full set of Zexcoils onto. When a new pickup finds its way to my #1 Strat, (the first hardware change since the late '70s) you know it has to be pretty amazing.
Hearing is believing. The other evening, I made a few recordings using the new Zexcoil pickup, which I sent to Mr. Lawing. These are now mounted on the Zexcoil site.
---
SCHALLER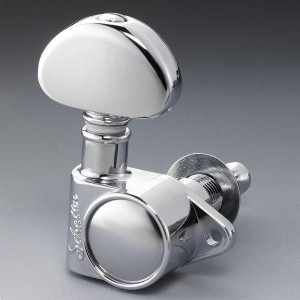 A chain is as strong as its weakest link. Machine head tuners are a crucial element in this chain. Speaking with "the man from Schaller", I took him up on his kind offer to try their new improved precision tuners on a particular guitar of mine that had problems retaining its tune. I received them, installed, and have nothing but the highest of praise. They fit in perfectly where the previous ones had been, so the whole change-over process took less than 1/2 hour.  I noted that  while winding each of all 6 strings, they just fell into place on the post. Often, I find myself needing to use my plectrum to even out the wind. In this case, completely unnecessary. Total precision. Beautiful.
First, I tuned the instrument 1 whole step high, let it sit for an hour, then another 1/2 step higher, then back a little later to bring it down to A=440. It stays in tune unbelievably well – very different to how it behaved with the old ones. Also noted was the ease with which you can turn the peg. It's even, and not the slightest bit "lumpy" as many often are.
In an email exchange last week, in which I described my delight with these new tuners, the man from Schaller responded: "Beyond all measurements precision and quality is an emotional value and this is what we strive to offer." You know what? I believe him.
http://www.schaller-electronic.com/
---
STROBEL ELECTRIC "TRAVEL GUITARS"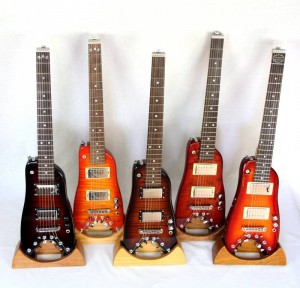 Here's a most interesting twist on the concept of the "carry-it-anywhere guitar". The back-end story: as an electrical engineer with Motorola, Russ Strobel did his share of traveling – and he always missed his guitar. So utilizing his exceptional engineering skills, he came up with a revolutionary new design for this totally delightful mini. Following extensive trials, I can say that it sounds great (sporting a pair of fab-sounding humbucker pickups), plays great (a lovely comfortable and resonant neck) – and  I couldn't help but notice how the wood of the body vibrates beautifully even when unplugged. That is a great sign. And with utmost respect, it's not a bad thing to call this instrument "cute". While it mightn't be out of place featured in the Hammacher Schlemmer  catalogue (at a much higher price), it would be equally at home in the finest music emporia (for a most reasonable price). At the time of this writing, they are available from the website only.
Oh, and if that isn't enough, it comes in a case about the size of a viola (so I wouldn't feel out of place walking into Abbey Road for a string session), it can be easily disassembled so that it fits into your …wait for it ….. computer bag!
http://www.strobelguitars.com/
---
EMINENCE SPEAKERS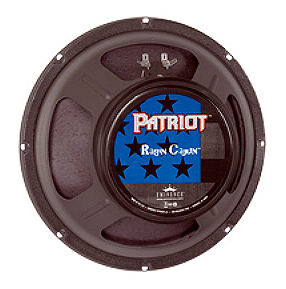 Oh, this one is special. Every speaker is different; each brings a different tonal spectrum to the ball game. My personal history: it got serious in '63 with the Oxfords that came with my old Fender amps, to the Celestions in the vintage Marshalls, and customizing and tweaking of my various amps with JBLs, Jensens and others. Each of my instruments takes on a different character dependent on the final stage of output – the speaker. The electric guitar has a (somewhat) limited frequency range, and different designers and manufacturers have their own differing concepts of "what works best".
Back to NAMM. After auditioning eight different models of 10″ speakers from Eminence, I found myself particularly taken with the sound I heard from their "Ragin' Cajun" model. To my ears, it seems to cover more desirable frequencies than many others I've used. I asked Hiwatt to build me a 2 x 10″ cabinet for a pair of these Cajuns. They obliged. Now, with the end product sitting mic'd up in my studio …"we are delighted". These babies can purr and they can bark; they understand the guitar. I can tell you that this pair o' tens will be vibrating here for a long time to come.
---
YAMAHA THR10 GUITAR AMPLIFIER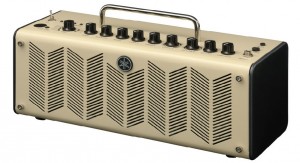 Beginning with the confession: I did not "meet" the THR10 at The NAMM show. It was actually one month later, when playing with Albert Lee at his 70th Birthday Celebration/Concert at Cadogan Hall in London. There, in my dressing room, sat this small retro-looking thang, (like a transistor radio morphed with a small boom box). Upon closer inspection, it turns out to be the coolest baby guitar amp I've ever seen… and heard. And it certainly worked a charm that evening. It sports an on-board tuner, models 6 different amplifiers (choose your warm-up groove sound), with great bass response which reminded me of the "full frequency" Bose radios with their incredible hi-fi sound And there's a whole lot more, I've discovered. Read on.
The visit from the Artist Relations / Guitar & Amp Expert from Yamaha was both enlightening and enjoyable. Mark took me through many of the features that the THR10 has that aren't visible at first glance. It's quite a piece of technology. Yamaha has come up with a totally different method of "amp modelling" – and it's really good! The amp also interfaces to your computer (Mac and Win) via USB, enabling you to do much more complex on screen-editing of presets, then save them to the amp. You can play sound files through the amp (special Aux input) and play along with them (for practice, or sheer enjoyment). It also comes with Steinberg's CuBase AI, so if you wish, you can interface directly with that. NB: There are still so many young (and not-so-young) players who still have to come to grips with digital recording – hence this package serves a lot more needs than just being a cute little fab sounding amplifier. Oh, and it can run on batteries too, so if you like, you can bring it along to your tent this summer…
http://usa.yamaha.com/products/musical-instruments/guitars-basses/amps/thr/
---
So that's the wrap-up, dear reader. I've been privileged to play around with some pretty extraordinary tools of the trade recently, and am delighted to share my views and experiences with you. Of course, every musician strives to find their own sound; their own voice, and what good fortune we have – there being so many products out in the marketplace. The options are endless. I encourage you to try as much stuff as you fancy, and thank you for the opportunity to let you know about my latest discoveries. Have a great …*twang*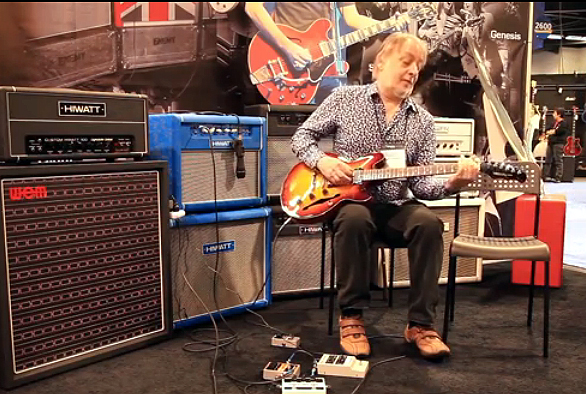 With special thanks to Hiwatt, for that blue beauty you see behind me, and to Trev Wilkinson and Fret-King for the wonderful Elise guitar that I've been playing extensively for almost a year.
If you missed "Part One" of the review, it's here.