2014 was a very interesting year – for a guy who used to only use one guitar (since 1965) and one amplifier, for virtually all live shows (since 1969). In the studios, it was just a little different, as many had their own "house amps", and a fair number of clients enjoyed the wow factor of seeing choices of more than one guitar. But hey, that's just another piece of Show Business, right? Most of you know which guitar & amp I'm talking about, and if you don't, you can click here to find out.
Multiple effects on the other hand, have played a big role in my career in numerous ways – enjoying their use (appropriately and in moderation of course) in both recording and live performances. Then there is the extreme pleasure of consulting on the development of new products, the NAMM adventures, clinics and workshops on behalf of certain manufacturers… all cool.
So what's changed? Well, as far as guitars and amps are concerned, over the past four years, I've had the opportunities – even the need to play other instruments, and as tied in as I've been to "Strat #1", I've been having some serious love affairs with some other beautiful instruments these days. I'll tell you about the two latest ones.
Music Man Albert Lee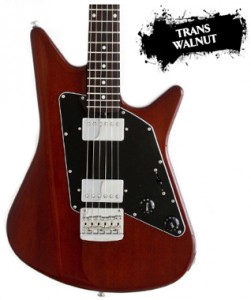 This one really blew my mind. I am a huge fan of Albert's. His personal model sports 3 Seymour Duncan Strat-type pickups. This one, with 2 DiMarzio humbuckers has quite a different set of sound properties. And the all-rosewood neck is heavenly!
I've been playing with an ensemble in which the two other guitarists are using axes that also sport humbuckers. This can prove problematic, with all those very similar sounding pickups, the overall sound can become a bit muddy at times. This guitar solves the problem beautifully. The designers have, in their wisdom, designed a circuit which, with the help of a 5 position switch, gives the user the choices of one coil from each pickup (two separate configurations), which does a most amazing job of "clarifying" the tones of this wonderful instrument.
---
Fret King C.S. Semitone Special

Here's one I just had a big bad hunch about. I saw it and it beckoned to me. I hadn't the faintest idea why. Then, as soon as I started playing it, I knew. This is my very first maple neck / maple fingerboard guitar. It's a known fact that the acoustic properties are different with this harder wood, and having always favored the sweet mellow sound of rosewood, I never ventured into maple-land. I am so glad I have. The tonal palette continues to grow!
Yes, of course, it can sound exactly like a Fender Telecaster. But my friend Trev Wilikinson has gone a whole lot further with this design. The humbucking neck pickup is warm as toast. The rear pickup can call in the dogs, make your ears bleed, or simply be snappy-as-all-get-out, and some of Steve Cropper's signature sounds are well within reach. I swapped out the middle pickup (a Stratocaster-ish one), for a Zexcoil SV5+. Inventor Scott Lawing calls it his "AlNiCo5 on steroids". It supplies both snap and warmth, in a very unique way; a sound you need to experience – sometimes words can't do a great sound justice. Then there is Trev's ingenious "coil-tap"…  We're talking about a home run here!
---
Hughes & Kettner TubeMeister 18
My first couple of encounters with the TubeMeister series were at music conventions, and those are not really the place to get intimate with any piece of equipment. Next, I was in the studio with my great pickin' buddy Mick Abrahams (recording his album), and the sounds that his guitar were emitting were simply heavenly. He grinned and pointed to his TubeMeister  head, plugged directly (via Redbook) into the console. I decided at that very moment that I had to have one. I got one. I've never looked back. Both in the studio and live, it's an absolute killer, with myriad tonal possibilities. It rocks. And it purrs.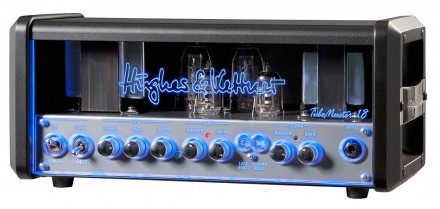 .
---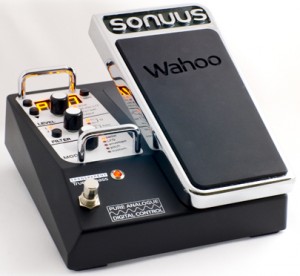 The final compliment on the gear front is the SONUUS WAHOO. It's their extraordinary wah pedal that is truly 21st Century, in every respect but the great retro sounds it produces. It's all analog audio components, but controlled by a digital "front end". Not only will it give you all those classic wah sounds, but an on-board envelope follower and specialised filters for frequency pinpointing bring new dimensions to those who like to take it to the limit. The geeky nature of the designers also brings you a computer interface (USB) where you can chart out the freqs you want (or don't want) on screen, and drag the curves any which way. Coolness; I'm lovin' t!
---
On the studio front, I have found some really excellent near/mid-field monitors – the Tannoy Reveal 802s. They are smooth, powerful and pretty darned true. Here is a short video piece on studio monitors I did recently for them.
---
Finally, here is a resource that you may wish to consider (if you're not already there). A post I made on my Facebook page:

NUMUBU — No, it's not the latest greatest Sushi Joint on the block. It's much cooler
It's an acronym for "New Music Business"; its aims are to service folks from all sectors of the entertainment industry, and it does so in a very unique way.
In one sense, it's a bit like LinkedIn for The Music Biz. It offers opportunities to network with peers, to establish new friendships and collaborations with like-minded people. Once joined, you can develop a full "profile" which includes limitless videos, music files, mount your CV/credits, list all your business terms and conditions, and now, having worked very hard on perfecting live video streaming performances, the latest is that members can offer pay-per-view performances to their fan base.
Also, many musical instrument, amplifier and accessory companies are taking advantage of the video features to present and demo their products. I mean, it really rocks.
So join me, Narada Michael Walden, Wishbone Ash, Uriah Heap, Chaka Khan, Leland Sklar, Dave Stewart, Bobby Cochran, Jan Akkerman, Gordon Giltrap, Billy Cobham, Jason Miles, and many more. Manufacturers who are "on board" include Hiwatt, Schecter, Pearl, Sabian, GHS, Hofner, Orange and about 300 others including loads of boutique amp builders and luthiers.
Oh I almost forgot – it's FREE, and the minimal advertising is …truly minimal – and it's almost always about stuff you'll be interested in checking out… Take the click http://www.numubu.com/
---
***Please note that most of these new "discoveries" cover the 2nd half of 2014. For views and reviews of the 1st half of the year, you can click here :
NAMM Winter Show 2014 REVIEW (part one)
NAMM Winter Show 2014 REVIEW (part two)
A Tale Of Two Pedal Boards